Book Now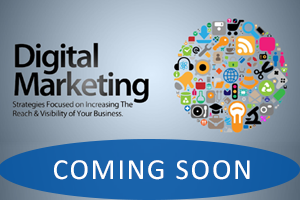 If you work in a marketing or communications role then you understand the importance of keeping your online digital marketing skills up-to-date. This instructor-led programme will help you to do just that, as we guide you through the world of online advertising, web and visual content development, social media and digital communications technologies. Comprising six short courses and instructor guided project, this programme will enable you to:
Understand how to utilise digital marketing tools in your business or non-profit
Improve your social media and online content creation abilities
Apply your online digital marketing skills to better engage customers or clients in your business
Target Audience
This programme is designed for participants who hold marketing or communications roles in businesses or non-profit organisations e.g. Committee PRO, general administrator, centre co-ordinator, small business owner, marketing communications officer.
Programme Structure
The programme is divided into six units of study and takes approximately 18 hours to complete. Typically, participants commit to completing the programme over a period of 6 – 8 weeks.
Unit 1: Getting to Grips with Digital Marketing
This introductory course helps you to complete a digital marketing 'health check' of your business or non-profit. You will identify key learning outcomes of relevance to you and agree the instructor guided project that you will undertake as part of the programme.
Unit 2: Guide to Online Advertising
In a busy and ever changing online world, businesses and non-profit organisations are turning to paid online advertising to help them stand out from the crowd. In this unit, we will explore common types of online advertising and learn the fundamentals of digital campaign management. By the end of unit, you will:
Explain the differences between video ads, social advertising and mobile apps
Understand how to plan and implement a digital advertising campaign
Understand the importance of measuring campaign results
Unit 3: Writing Website Content
At some point in their careers or volunteering roles, marketers will be tasked with getting their businesses or non-profits online. Organisation websites are a primary source of information about a company and should be managed effectively. If you are tasked with designing or re-developing a company website, this unit will help you to:
Understand how to create a website content strategy
Explain the importance of keywords and headings, video and audio elements, lists and links, forms and messages in website design
Explain the importance of search engine optimisation in web design
Unit 4: Creating Visual Content and Graphic Designs
Strong visual content is a huge asset to any organisation that wishes to stand out from the crowd online. Whether you are developing content for a website or aiming to achieve more impactful social media posts, creating effective visual content is a must! If you would like to achieve professional looking graphics, then this practical unit will help you to:
Understand how to design graphics for use on websites and social media platforms
Understand how to design logos, reports and visuals for social media posts
Explain the importance of colour, space, contract, symmetry, fonts and images in graphic design
Unit 5: Using Social Media Effectively
Social media channels such as Facebook, Twitter and YouTube are important communications and branding tools in many organisations. The pace at which the social media landscape continues to expand means that all marketers need to keep up-to-date with developments. This unit is designed to enable you do just that and will help you to:
Better understand the social media landscape and social media trends
Explain how to set up accounts and profiles on leading social media channels
Explain how to use social media channels for business and non-profit digital marketing
Unit 6: Using Digital Communications Technologies
There are a myriad of digital communications tools available for marketers to communicate with customers and clients. Before selecting the tools to use, it is first necessary to identify the practical ways in which communications technologies can assist a business or non-profit. Upon completing this unit, you will be able to:
Explain the differences between video chat and live streaming
Explain the benefits of email marketing and online selling
Explain how digital communications technologies may be typically used in a business or non-profit
Programme Assessment
Participants are required to complete a final course assessment and work-related project to successfully pass the programme and obtain a Certificate of Programme Completion. Each participant will be guided through the programme by the lead instructor.
Cost
The Digital Marketing Skills programme costs €240 per participant for 90 days course access.
Lead Programme Instructor: Caroline Egan M.B.S., B.B.S., Managing Director, CramdenTECH Ltd.
TAKE THIS COURSE
This programme is open to participants on April 26th, 2017
Contact CramdenTECH Client Services on 087-2194541 or at email learning@cramdentech.com.