Book Now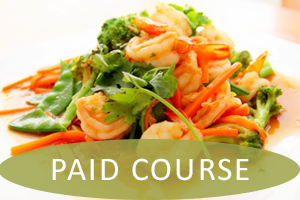 Mapped to Food Safety Authority of Ireland (FSAI) Level 1
Target Audience
Are you, or would you like to be, a food worker directly working with food in a kitchen or indirectly working front of house in a restaurant, hotel, nursing home etc.?
Are you an employer with a number of staff that you wish to have trained in basic Food Hygiene but cannot free up staff as a group?
If so, this introductory course is perfect for you!!
Course Overview
This course aims to enable learners to develop a comprehensive understanding of Food Safety and Safe Food Handling within the Food and Hospitality Industry.
The course is mapped to the guidelines set out by the Food Safety Authority of Ireland for Level 1 training with additional information including Allergen Management.
Learning Objectives
Upon completion of this course learners will understand :
What HACCP is and its importance in the food safety processes
How to handle food safely
What the listed allergens are and what effective allergen management is within the food business.
Completion Time
This course takes approximately 2 hours to complete.
Fee
€45 per individual.
Contact Cater Care for group fees.
Interested in this course?
Please call Cater Care on 061 469008 to enroll and purchase this course.
Commence the Course & General Instructions
Once you have purchased the course through Cater Care (call Cater Care on 061 469008), you will be enrolled on the course.
To commence the course, please click on the first topic title in the table below 'Course Introduction'.
Each lesson contains an interactive elearning resource for you to proceed through at your own pace.
To move from the first topic to the second 'Introduction to Food Safety and Hazards' remember to click on the Mark Complete button at the bottom of the first topic web page.
If you encounter any difficulties accessing the course please email buildfutureskills@cramdentech.com for assistance.
You have 30 days in which to access and complete the course. You may access the course as often as you wish during this time period.