Book Now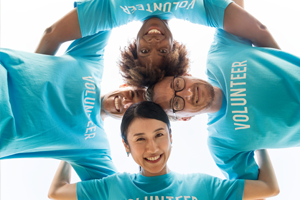 Skills Builder Overview
This short skills building course, will help you to better understand the fundamentals of how to manage volunteers in for non-profit and voluntary groups. This interactive course presents volunteer management as a set of five key activities: recruitment, training, activity planning, managing expectations and recognition of volunteer contributions.
Completion Time
This skills builder takes approximately 8 minutes to complete.
Target Audience
'Managing Volunteers – Introduction' is designed for people who are responsible for volunteer induction and engagement in charities or voluntary groups.
Related Courses
'Managing Volunteers – Introduction' is a companion resource for the 'Leading Community Change' skills builder available on this platform.
Cost
This resource may be accessed free-of-charge.
Enroll on Course
To enroll on the course, please enter the valid details in the enroll section at the bottom of the page.
Commence the Course & General Instructions
Once you are enrolled on the course:
Please progress through each of the lessons in the course sequentially.
To move from one lesson page to another, click on the 'Mark Complete' button located at the end of each lesson page. Once you have clicked the 'Mark Complete' button, you may then progress to the next lesson in the course.
Some lesson pages contain interactive resources. To open an interactive resource, click the orange 'Launch' button contained on the web page. Click on the 'Next' buttons or arrows within each interactive resource to move from one screen to the next within each of these resources.
Document names in blue within a lesson or topic page denote that the document is available to download. Just click on the document name (in blue) to open it for viewing and download.
To start the course, click on the lesson 1 heading in the table below.
Enroll on this course
You are not enrolled on this course. Price Type : free