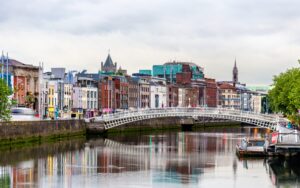 There has been a 28% rise in the number of new companies registered in Ireland in the first nine months of the year compared with the same time in 2020, according to CRIF Vision Net.
However, the figures suggest that start-up activity slowed in the third quarter, with growth of just 4%.
This compares to growth of 42% in the first six months of the year.
According to the data, sectors including leasing, utilities, manufacturing and finance accounted for the largest portion of new start-ups.
The construction sector recorded a modest increase of 4%.
Meanwhile, the hotel and restaurant sector, which was among the worst hit as a result of the Covid pandemic recorded a 4% decrease in start-ups.
This sector continues to be the most at risk sector, with around three in five companies in this space being categorised as 'high-risk'.
This represents a 5% increase on the third quarter last year.
A total of ten counties saw improvements in new company registrations in the third quarter.
Start-ups in Waterford increased by 20%, while Sligo was up 19%, Mayo up 13%, Clare up 11% and Dublin and Cork up 7%.
Kilkenny, Carlow, Kerry and Wexford also recorded growth.
The CRIF Vision Net figures also show that there has been a 24% decrease in insolvencies so far this year, and a 48% decrease in the third quarter, compared to the same time last year.
"In recent weeks, we have seen positive Central Bank of Ireland growth projections and a largely well received Budget 2022," said Christine Cullen, Managing Director of CRIFVision-net.
"It is therefore important that we build on this positive market sentiment and critically, that we continue to look for ways to support the most at-risk sectors to bridge out of recent Covid challenges and give them the confidence and infrastructural support to move to a growth mindset as we approach the year end," she added.
Article Source: RTE News