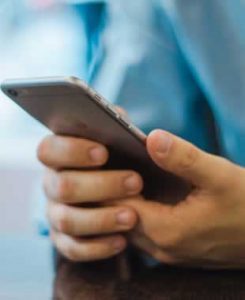 Fifty seven percent of Irish people say their smartphone is their primary source of news. This according to Three Ireland who today launched the second edition of The Three Connected Ireland Report – a quarterly research report that examines the ways in which mobile technology is changing how we interact with each other, businesses and government, and how the Irish public wants mobile services to develop in the future.
The report was conducted by Amárach Research among 1,000 smartphone users throughout the Republic of Ireland, respondents were asked for their opinions in three key areas: The Connected Business, The Connected Citizen and The Connected Life.
When seeking news headlines in the morning, Facebook is the most popular source of information, with almost a third (32%) accessing the app, compared to 28% tuning in to the radio, 11% watching TV and 4% picking a traditional print newspaper. Twelve percent search for news from dedicated news websites and 3% access news apps.
Social media influencers are a relatively recent addition to marketing campaigns and business activity but they're having a significant impact on sales according to today's research. Almost one in four respondents (23%) have bought something recently with their smartphone as a result of recommendations by bloggers they follow on social media. This figure rises to 38% of 16–24 year olds and 35% of 25–34 year olds.
Sharing customer experiences, be it feedback with friends, directly with the organisation, or via online reviews is proving to be particularly popular among younger generations, with over a fifth (21%) of 16–24 year olds using their smartphone to review restaurants and 22% rating holiday accommodation. Overall, almost a third of all age groups use their smartphone to review or give feedback on restaurants and accommodation.
When it comes to buying items online, laptops remain the go-to device for the majority of respondents (39%). However, younger generations say smartphones are their shopping device of choice, with 45% of 16–24 and 35–34 year olds and 46% of 35–44 year olds admitting they are more likely to purchase items online using their mobile.
Commenting on the results, CEO of Three Ireland, Robert Finnegan said, "As Ireland's leading mobile data network, we are investing heavily to ensure we remain at the forefront of Ireland's digital evolution. As we modernise our network across the country, we can see the benefit of this enhanced connectivity to our customers in their everyday lives as consumers, workers or citizens."
He added, "In 2017 we were the only operator to secure uniform national 5G spectrum across Ireland and not prioritise urban areas which will ensure that all our customers can reap the benefits of increased connectivity in the years to come. The Three Connected Ireland report will assist us to develop the services our customers want and to help their life mean more through connectivity."
Article Source: Business World