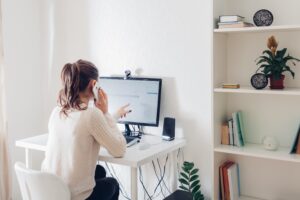 A new survey from the Central Statistics Office show that of those who could work remotely, 28% said they would like to work that way all the time while 60% said they would like it some of the time when all pandemic restrictions are lifted.
The CSO's latest Pulse Survey – Our Lives Online – for November show that those who currently work remotely, 98% of them do so from home.
It also reveals that 45% of those in employment would consider a house move if they could work remotely, with some having moved already.
On days that people work remotely compared to days they are in the office, 74% said they made less trips by car, with 47% saying their trips on foot had increased.
The CSO said that of those who said they would consider using a remote-work hub, 44% said they would travel up to 15 minutes to get to one, with an additional 45% saying they would travel up to double that time.
Meanwhile, 74% of remote workers said they have more time on their hands, because of their ability to work remotely, to do things they never got the chance to do before the pandemic.
These activities include doing more domestic tasks, exercising and spending more time with family and friends.
The CSO said that 46% of workers felt that working remotely would not affect their opportunities for promotion. 4% said it would affect these opportunities in a positive way, 22% in a negative way with the remainder (28%) saying they did not know.
Today's survey also reveals that 67% of respondents feel that, outside of work or education, they are doing more online now than a year ago, while 62% feel they are spending more money online.
It shows that less than 5% of people always purchase groceries online.
When asked about purchasing products online – other than groceries – 60% said they mainly look for retailers that are either based locally to them, or elsewhere in Ireland regardless of price.
When it comes to personal banking, 61% of respondents said they only use online banking, the CSO said.
Meanwhile, 12% of respondents to the CSO survey said they use dating apps with 65% of them saying their usage of these apps has increased over the last 12 months.
Article Source: RTE Business News