Book Now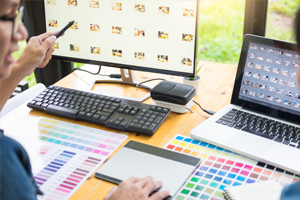 Course Overview
Strong visual content is a huge asset to any organisation that wishes to stand out from the crowd online. Whether you are developing content for a website or aiming to achieve more impactful social media posts, creating effective visual content is a must! If you would like to achieve professional looking graphics, then this practical course will help you to:
Understand how to design graphics for use on websites and social media platforms
Understand how to design logos, reports and visuals for social media posts
Explain the importance of colour, space, contract, symmetry, fonts and images in graphic design 
Target Audience
This course is designed for participants who hold marketing or communications roles in businesses or non-profit organisations e.g. Committee PRO, general administrator, centre co-ordinator, small business owner, marketing communications officer.
Course Structure
The course is divided into twelve component parts and takes approximately 3 hours to complete. Topics are self-contained to facilitate micro-learning for the time conscious participant.
Lesson 1: Using Canva as a graphic design tool
An introduction to online graphic design tool Canva
Creating a Canva account
Creating a design in Canva
Lesson 2: Selecting Fonts and using space, contrast and symmetry effectively
The importance of  getting visual content right
Typography terms
Typographical contrast
Spacing contrast
Shape contrast
Lesson 3: Selecting colours, images, vectors and icons
Colour associations
Using images, vectors and icons
Lesson 4: Getting Started – Social Media Profile Covers
How to create a Facebook Event Cover
How to create a Twitter Cover
How to create a LinkedIn Banner
Lesson 5: Getting Started – Creating Visuals for Social Media Posts
How to design an Instagram post
Lesson 6: Getting Started – Creating Online Banner Advertisements
Online Advertising
Methods of Advertising Online Explained
Banner Ads
Lesson 7: Create a Company Logo
How to create a company logo
Colour Associations in Logo Design
Lesson 8: Create Company Letterheads and Compliment Slips
How to create company letterheads and compliment slips
Lesson 9: Create a Trifold Brochure
How to create a trifold brochure
Lesson 10: Create an A4 Promotional Flyer and Event Invitation
How to create an A4 Promotional Flyer
How to create an Event Invitation
Lesson 11: Create an Annual Report
How to create an Annual Report
Lesson 12: Quick Links – Online Resources
Quick access to website resources
Course Assessment: Upon successful completion of the final course assessment each participant will be able to independently download a Certificate of Course Completion.
Cost
The Creating Visual Content and Graphic Designs course costs €43.05 per participant for 30 days course access.
Purchase Course
To purchase the course, please enter the valid details in the payment section at the bottom of the page.
Commence the Course & General Instructions
Once you have purchased the course you will automatically be enrolled on the course:
Please progress through each of the lessons in the course sequentially.
To move from one lesson page to another, click on the 'Mark Complete' button located at the end of each lesson page. Once you have clicked the 'Mark Complete' button, you may then progress to the next lesson in the course.
Some lesson pages contain interactive resources. To open an interactive resource, click the orange 'Launch' button contained on the web page. Click on the 'Next' buttons or arrows within each interactive resource to move from one screen to the next within each of these resources.
Document names in blue within a lesson or topic page denote that the document is available to download. Just click on the document name (in blue) to open it for viewing and download.
To start the course, click on the lesson 1 heading in the table below.

Purchase Course (€43.05)