Book Now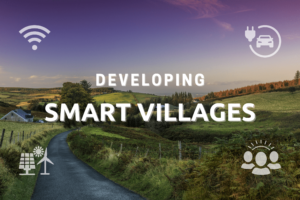 Course Overview
The Bled Declaration describes Smart Villages as "rural areas and communities which build on their existing strengths and assets as well as on developing new opportunities", where "traditional and new networks and services are enhanced by means of digital, telecommunication technologies, innovations and the better use of knowledge".
EU Action for Smart Villages, European Commission
The ultimate purpose in developing smart villages is to make rural communities more resilient. This typically means communities working collaboratively to find smart solutions to the challenges they face. It also entails community stakeholders working together to identify ways to exploit the opportunities that smart solutions planning can unlock.
In this course we explore practical steps that communities can take to facilitate their development as resilient smart villages.
---
Target Audience
This course has been designed for voluntary boards and committees who wish to engage their communities in action planning, strategic planning or smart village development.
The course will also be of benefit to development co-ordinators and support workers in local development companies and support agencies tasked with supporting rural communities.
Ultimately, the course will be of interest to anyone who wishes to help make their community more resilient!
---
Course Structure
The course is divided into eight component parts and takes approximately 2 hours to review. Practical planning templates and downloadable resources are provided with course lessons. Topics are self-contained to facilitate micro-learning for the time conscious participant.
| | |
| --- | --- |
| Lesson | Focus of Learning |
| Smart Villages | Learn what is meant by the term 'Smart Villages'. |
| Resilient Communities | Develop your understanding of the concept of community resilience. |
| Community Profiles | Explore how to develop a community map. |
| Designing Solutions | Consider ways to engage with the community to identify challenges, needs and potential solutions. |
| Community Planning | Learn how to develop and structure community plans including project plans, action plans and strategic plans. |
| Building Support | Identify ways to build community support in terms of people, funding and non-financial resources. |
| Celebrating Success | Recognise the power of good communication in keeping a community motivated as it builds resilience and implements smart solutions. |
Final Lesson: Course Quiz
Upon successful completion of the final course quiz, each participant will be able to independently download a Certificate of Course Completion.
---
Course Trainers
The Developing Smart Villages course is a Management365.ie elearning resource brought to you by CramdenTECH Ltd. under the direction of trainer Caroline Egan.
In 2022 and 2023, CramdenTECH Ltd. has delivered LEADER funded Smart Villages training on behalf of Comhar na nOileán CTR to islands in Donegal, Mayo, Galway and Cork and to communities on the Cork headlands.  Learn more about the work of Comhar na nOileán CTR online at: https://oileain.ie/
In the same time period, CramdenTECH Ltd. has delivered LEADER funded Smart Villages training on behalf of Galway Rural Development. You can follow the progress of the communities of Mountbellew and Headford on Twitter @GRDSmartVillage and online at https://www.grd.ie/
"I have known Caroline Egan for a decade and, in that time, she has been both a terrific guide and support through her philosophy of community development and her coaching expertise. GRD's success in Smart Villages in County Galway has, in no small part, been down to Caroline's passion and delivery of the curriculum. Indeed, the subsequent community achievements so far in Mountbellew, and currently in Headford, speak to Caroline's grasp and delivery of the values and value of Smart Villages."

Steve Dolan, CEO, Galway Rural Development
---
Cost
The course costs €39.99 for 90 days course access.
---
Commence the Course and General Instructions
Once you have purchased the course you will automatically be enrolled in the course. Please progress through each of the lessons in the course sequentially.
Click on the first lesson in the course content table to commence the course.
---
Course Content

Purchase Course (€39.99)