Book Now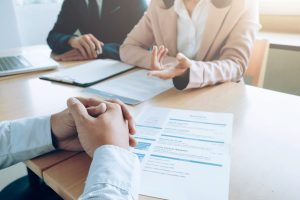 Course Overview
If your non-profit employs staff, then be aware of the areas that can cause problems in the employer/employee relationship. Hire appropriately, manage fairly and motivate effectively if you wish to retain productive staff. All of this should happen within a human resources framework that adheres to all aspects of employment law, data protection and health and safety legislation.
Course Structure
The course is divided into 8 component parts and takes approx. 2 hours to review. Participants should allow for additional time to review the templates and handbooks which accompany the course. Topics are self-contained to facilitate micro-learning for the time conscious participant.
1. Recruiting Staff
Staff recruitment may be thought of as a seven stage process beginning with the development of a job profile. In this lesson, we review each step in the process.
2. Reward Structure
There are many factors that go into making an employment role a rewarding experience for staff.
3. Performance Recognition
Employee performance may be thought of as a combination of the three C's: Competence, Commitment and Confidence
4. Disciplinary Process
Every now and again, staff performance causes sufficient concern for disciplinary procedures to be considered. It is imperative that every employer treats staff fairly and follows the disciplinary process set out in its employment policies.
5. Employment Law
This lesson focuses on some of the practical considerations that must be addressed to ensure that an organisation complies with Irish employment legislation.
6. Internal Controls
Considering the range of employment legislation to be adhered to, it is no surprise that a range of internal controls and procedures may be required to ensure compliance.
7. Policies
An organisation demonstrates its commitment to adhering to employment legislation through the range of policies it adopts. Policies relating to the management of employees are typically contained in an employee or company handbook.
8. Avoiding Unfair Dismissal Claims
No organisation wants to find itself defending an unfair dismissals claim in front of the Workplace Relations Commission. To help avoid such claims, it is essential to have certain policies and procedures in place.
Upon successfully completing the course, participants may download free of charge a course Certificate of Completion.
Cost
The course costs €110.70 per participant for 60 days course access.
Purchase Course
To purchase the course, please enter the valid details in the payment section at the bottom of the page.
Commence the Course & General Instructions
Once you have purchased the course you will automatically be enrolled on the course:
Please progress through each of the lessons in the course sequentially.
To move from one lesson page to another, click on the 'Mark Complete' button located at the end of each lesson page. Once you have clicked the 'Mark Complete' button, you may then progress to the next lesson in the course.
Some lesson pages contain interactive resources. To open an interactive resource, click the orange 'Launch' button contained on the web page. Click on the 'Next' buttons or arrows within each interactive resource to move from one screen to the next within each of these resources.
Document names in red within a lesson or topic page denote that the document is available to download. Just click on the document name (in blue) to open it for viewing and download.
To start the course, click on the lesson 1 heading in the table below.

Purchase Course (€110.70)