Book Now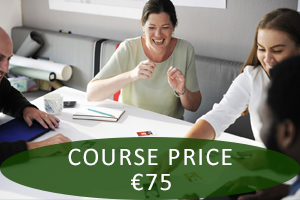 Course Overview
This course has been designed to support committee members and voluntary groups who host work placement participants through Community Employment, Rural Social Scheme and TÚS schemes.
The Managing Work Placement Participants course is divided into three core sections of content. These sections reflect the 'need to know' aspects of hosting a work placement participant that all boards and committees should consider.
It is worth working through the detail of each section, so that you can better understand the viewpoint of the work placement participant, that of the scheme supervisor or Local Development Company (if applicable) and your own expectations and needs.
Course Structure
1. Creating Annual Work Plans
Core topics covered in this lesson include:
Rationale for developing work plans in community groups
Defining organisational purpose
Setting objectives
Identifying key tasks and activities
Identifying volunteer requirements
Identifying work placement human resource requirements
Identifying financial resource requirements
Assigning responsibilities
2. Creating Work Placement Role Descriptors
Core topics covered in this lesson include:
Developing Role Descriptors
Determining tasks to be completed by the role holder
Identifying role descriptor skills
Scoping the workload assigned to each role
3. Managing Relationships
Core topics covered in this lesson include:
The importance of managing stakeholder relationships
Working with work placement participants
Working with Scheme Supervisors
Working with Committee Members
Working with the Committee
Managing Employee Relationships
Upon successfully completing the course, participants may download free of charge a course Certificate of Completion.
Cost
The course costs €75 per participant for 60 days course access.
Purchase Course
To purchase the course, please enter the valid details in the payment section at the bottom of the page.
Commence the Course & General Instructions
Once you have purchased the course you will automatically be enrolled on the course:
Please progress through each of the lessons in the course sequentially.
To move from one lesson page to another, click on the 'Mark Complete' button located at the end of each lesson page. Once you have clicked the 'Mark Complete' button, you may then progress to the next lesson in the course.
Some lesson pages contain interactive resources. To open an interactive resource, click the orange 'Launch' button contained on the web page. Click on the 'Next' buttons or arrows within each interactive resource to move from one screen to the next within each of these resources.
Document names in red within a lesson or topic page denote that the document is available to download. Just click on the document name (in blue) to open it for viewing and download.
To start the course, click on the lesson 1 heading in the table below.