Book Now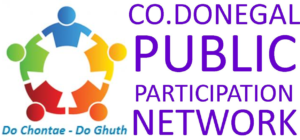 Welcome to the Role and Responsibilities Representatives course brought to you by Donegal Public Participation Network (PPN). We hope you find course content helpful.
Course Overview
In this short course, we take a practical look at the role of a PPN Representative and how PPN members can help inform Donegal County Council policies.
Target Audience
This course is designed to meet the needs of existing and newly appointed PPN Representatives, Council Officials and County Councillors.
Course Structure
The course is divided into 6 component parts and take approximately 2 hours to review. Lesson topics are self-contained to facilitate micro-learning for the time conscious participant. You are not required to complete all lessons in one sitting. You may access the course as often as you wish until all topics are complete.
Lesson 1: Public Participation Networks
This lesson explains the purpose of Public Participation Networks and the role they are intended to play in Council policy formation.
Topic 1: Donegal PPN Constitution
Lesson 2: PPN Representatives
This lesson sets out the role and responsibilities of a PPN Representative and how representatives are elected to their roles.
Topic 2: Representative Responsibilities
Lesson 3: PPN Secretariat
This lesson sets out the functions of the PPN Secretariat who oversee the governance of the Public Participation Network.
Topic 3: Communicating with PPN Members
Lesson 4: Linkage Groups
This lesson explains how PPN Linkage groups are used as the vehicles through which PPN policies are formulated for the purpose of informing Council policies on a wide range of issues.
Topic 4: Linkage Group Responsibilities
Topic 5: Committees and Panels
Topic 6: Policy Development
Topic 7: Reporting
Lesson 5: Committee Skills
This lesson provides practical guidance to PPN Representatives who may find themselves chairing committee meetings or recording meeting minutes.
Topic 8: Setting Agendas
Topic 9: Recording Meeting Minutes
Topic 10: Chairing Meetings
Course Quiz
In this final lesson, you have an opportunity to complete a short multiple-choice quiz to test your knowledge about what you have learned. Upon successful completion of the quiz, you can download a PDF Certificate of Completion in recognition of your efforts.
Course Commencement & General Instructions
Please progress through each of the lessons in the course sequentially.
To move from one lesson page to another, click on the 'Next' link located at the end of each lesson page. Once you have clicked the 'Mark Complete' button, your lesson progress in the course will be recorded.
Some lesson pages contain interactive resources. To open an interactive resource, click the orange 'Launch' button contained on the web page. Click on the 'Next' buttons or arrows within each interactive resource to move from one screen to the next within each of these resources.
Document names in blue within a lesson or topic page denote that the document is available to download. Just click on the document name (in blue) to open it for viewing and download.
Click on the Lesson 1 heading in the table below to commence the course.