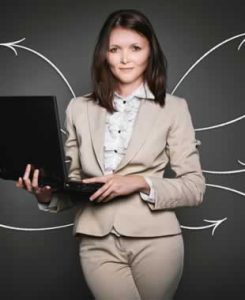 It may be e-invoicing today, but blockchain ledgers tomorrow.
Ireland has been signed up as a PEPPOL (Pan-European Public Procurement Online) Authority member in what is a critical first step towards e-invoicing.
What this effectively means is that the Irish Government is putting in place a structure for modern e-invoicing. This could speed up transactions between Government and SMEs, but could also open up the entire EU for Irish businesses to sell to the European public sector digitally.
The PEPPOL eDelivery network enables businesses to connect to European public-sector buyers.
Yesterday, the Minister of State with special responsibility for Public Procurement Patrick O'Donovan, TD, signed an agreement with André Hoddevik, secretary general of OpenPEPPOL, officially confirming Ireland's status as a PEPPOL Authority member.
The European eInvoicing Directive obliges all public-sector bodies to be able to receive e-invoices by April 2019.
What is PEPPOL?
PEPPOL is a set of artefacts and specifications enabling cross-border e-procurement.
It is not an e-procurement platform but instead provides a set of technical specifications that can be implemented in existing e-procurement solutions and e-commerce exchange services to make them interoperable between disparate systems across Europe.
Trading partners can use PEPPOL to exchange standards-based electronic documents over the PEPPOL network, including e-orders, e-advance shipping notes, e-invoices, e-catalogues and more.
"As a PEPPOL Authority member, Ireland will participate in the development and governance of the PEPPOL network," Minister O'Donovan said.
"Ireland will now be part of a wider international community that is focused on harnessing digital technology to create opportunities for greater transparency and competition in public procurement, better value for money for the taxpayer, and reducing the environmental impact of traditional paper-based processes."
Keys to the Digital Inner Market?
The key word here is interoperability.
The Office of Government Procurement (OGP) will operate the PEPPOL Authority function on behalf of the Government and will facilitate public-sector bodies in meeting their e-invoicing obligation by providing a framework of commercially available solutions.
There is no requirement for suppliers in Ireland to send e-invoices to Irish public-sector bodies at this time.
"The interoperability that the PEPPOL network delivers is key to the standards-based, sector-led approach to e-invoicing being adopted by Ireland, providing a 'Connect Once – Connect to All' channel for suppliers, while respecting the diversity of the public and private sectors both here and throughout Europe," explained Paul Quinn, Government chief procurement officer and CEO of OGP.
Hoddevik added: "Ireland joins a growing number of European countries using PEPPOL as a cornerstone for their national e-invoicing activities. The continued growth of OpenPEPPOL well positions the association to support and enable the move towards the Digital Inner Market."
So, what comes next?
That is down to how the various public-sector bodies go about enabling e-invoicing for their suppliers.
While no one has specifically mentioned blockchain, it is a tantalising thought that e-invoicing represents an important first step towards getting in place the disciplines and procedures that are needed before blockchain truly enters the fray.
While the fluctuations in cryptocurrencies such as bitcoin, Ethereum and Ripple capture the headlines, they distract from the real evolution through the enabling technology itself, which is blockchain.
A blockchain is a digitised, decentralised public ledger, and 'blocks' are recorded in chronological order to allow users to keep track of transactions without central record-keeping. Each node or computer connected to the network gets a block copy automatically downloaded.
Blockchain could represent the future of smart, legal contracts, or how entire industries conduct themselves in a regulated, streamlined manner.
For example, Finland and other Nordic countries are world leaders in the digitalisation of invoice traffic between companies and government buyers. Worldwide, the market penetration of business-to-business (B2B) e-invoices is assumed to be around 10pc whereas in the Nordic countries, the corresponding figure is already almost 50pc, according to OpusCapita.
An attempt to build a new kind of organisationally distributed but logically centralised e-invoicing address registry has now been started in Finland. The technology platform utilised for the project will be based on the Ethereum blockchain.
Ireland may be a long way off from applying blockchain to speed up public-sector procurement, but the fact that the country is signed up to the PEPPOL network opens the door to a world of tantalising opportunities.
Article Source: Silicone Republic