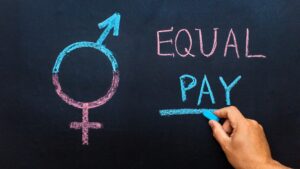 Women in Ireland are effectively working for free for the last 14.4% of the year – ie from today – according to research from WorkEqual today.
Today is Equal Pay Day – the date on which women in Ireland effectively stop earning, relative to men, because of the gender pay gap which currently stands at 14.4%.
The WorkEqual research also shows that 74% of people believe closing the gender pay gap is important and should be a priority for government and employers.
It found that 67% of people are in favour of pay transparency and believe workers should have the right to know what other colleagues doing the same work are paid.
Support is highest amongst women with 70% of women agreeing compared to 63% of men.
70% of people also believe that concerns about the gender pay gap represent awareness of a real issue, while 16% believe they are an example of political correctness going too far.
WorkEqual's founder Sonya Lennon said the Gender Pay Gap Information Act was enacted earlier this year, which will mean large employers must report on their gender pay gaps from 2022 onwards.
"We are calling on employers to be really proactive about this. Reporting is just one small aspect of addressing the gap," Ms Lennon said.
"It needs to be accompanied by action plans, setting out how individual workplaces will tackle their gender gaps," she said.
"Although workplaces with less than 250 employees will not be covered by the Act in its initial years, we also want to see smaller employers embracing change and taking steps now to address the gender pay gap," she added.
Today's survey also show that understanding of what the gender pay gap is – and what causes it – is mixed.
70% of people recognise that the gender pay gap is the difference in the average hourly wage of all men and women across a workforce.
85% equate addressing the gender pay gap with ensuring people who do the exact same job get paid the exact same salary. Only 52% believe the gender pay gap exists because women often make career decisions influenced by the need to care for children and/or other family members.

WorkEqual CEO Angela Smith said that the failings in Ireland's childcare system have been well-documented.
She said that research clearly shows how childcare – and broader family responsibilities – impact on people's careers and, in particular, how women bear the brunt of this.
"On a hopeful note, men who experience family life are more aware of the gender pay gap and the impact this has. And, overall, there is strong public support for action by government and employers to close the gender pay gap," Ms Smith said.
"We still have a long way to go and we need the support of everyone – women, men, workplaces and elected representatives – to make Ireland a much more gender-equal society," she added.
Article Source: RTE Business News